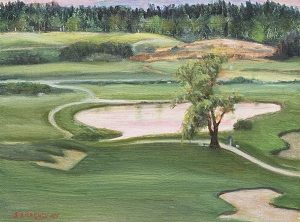 Merrimack Valley Golf Course
8×10 Oil on Canvas Framed in Gold
I love running by this golf course as it is so beautiful any time of year. I enjoyed painting this scene on site.
$

300.00
Add to cart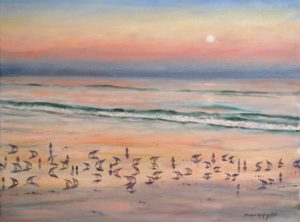 Sandpiper Symphony
11×14 Oil
I was inspired by the shapes the sandpipers made in the sand.  it reminded me of a musical masterpiece with their shapes and shadows as seen in sheet music. Such a peaceful time of day to see such a serene sight.​
Framed in gold.
$

350.00
Add to cart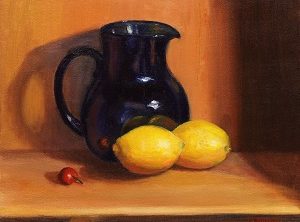 Blue and Yellow Majesty
11×14 Oil
This painting came about after buying fresh lemons and seeing how wonderfully they played against the blue pitcher.  I thought the cherry was a nice touch!
Framed in Gold
$

650.00
Add to cart