Jeanne D'Arc Credit Union purchased Ten of my landscape and seascape paintings.  They may be seen at JDCU 310 Merrimack St.  Methuen, MA  01844
Sharon Morley's stunning paintings brighten Jeanne D'Arc Credit Union's branch office in Methuen, MA and allow us to share her beautiful interpretations of local scenes with our members. We appreciate Sharon's tremendous talent and her efforts in transforming landscapes, seascapes, and images from our daily lives into incomparable works of art.
Michelle Silveira
Senior Vice President and Chief Marketing Officer
Jeanne D'Arc Credit Union
Hampstead Public Library, Hampstead, NH on the Commissioned Portrait of Elaine David

"Dear Sharon:
On behalf of the Friends of the Hampstead Public Library, I want to thank you for the wonderful portrait of Elaine David you recently completed.  You captured her essence perfectly even though you never met her.  We are also grateful for the speed with which you finished this commission.
It was important that it be done quickly so that the presentation could be made as soon as possible.
You not only met but exceeded our expectations.  It has been our pleasure to have you work on this project.  Elaine's portrait will hang in the Hampstead Public Library so all who use the Library will be aware of her many contributions to it.
Sincerely,
John Skidmore"
"The portrait of Elaine is hanging near our front desk. It is quite lovely and we are all amazed at what a beautiful job you did."  Janet Arden, Adult Programming, Hampstead Public Library
Still Life Purchase of "Kissed by the Sun"

My feelings about "Kissed By The Sun" can be summed up in three words
... I love it.
Every time I look up at the wall where it hangs in my home, I consider myself fortunate to have it to look at and enjoy.
Initially, the painting that I wanted was "Thursday Mornings".  This painting touch something inside me from when I was a child.  It was the look (and fresh fragrance) of the clothes that my Mom would hang to dry.
As luck would have it, by the time I was ready, someone else had spotted
"Thursday Mornings" and beat me to the punch, someone had purchased "Thursday Mornings".
It was gone
A little bummed, I began to look over the other paintings that were available and that is where I spotted "Kissed".  I love sunflowers and how they were captured on the canvas caught my eye and pleased my soul. They say everything happens for a reason and certainly in this case I am glad it did.
I knew once I spotted it, I wanted it and was excited when I was told that it was mine.
Now, whenever I glance at "Kissed By The Sun", it's beauty brings a smile both to my insides and out.
Thank You Sharon.
Steve Normann
Boiceville, NY
"My daughter and I were taking art classes together from Sharon just so we could do something together. Sharon wanted to do a portrait of Catie so during one of our art classes at the end, Sharon started the process, took some pictures of her, and ultimately created the most beautiful painting of her that I had ever seen. She sent me a picture of it on email and I showed all these people at work, and we were all, well - jaws dropped. I now have the painting hanging on a wall in the "big room" where it is the first thing that you see when you walk into the house. When I got it, I choked up a bit (seriously) - my daughter has been immortalized forever. Thank you Ms. Sharon !"
Pat Hall, Artist, Collector
"Notes in the Sand"  purchase and many others
I have known Sharon since she first started to paint and own several of her paintings. Sharon's work speaks for it-self. Her passion for life comes through in her work. I own a painting of a seashell that makes me smile every time I look at it and a landscape of a beautiful forest scene that invokes a feeling of peace.
The painting I love the most is of empty clotheslines in a back yard. It is titled "Thursday Morning", (at one time in our culture, Monday was always wash day). It reminds me of my childhood and the homes I have lived in throughout my life. It just brings back so many memories for me, that I enjoy it every time I look at it. It hangs in my bedroom, and as the day progresses and the light changes, it almost brings it to life.
Sharon has always given me wonderful service when I bought her paintings. I remember when I bought the first one, it wasn't framed. I wanted a certain color frame and she told me what size to get and then framed it for me. She is always willing to work with you. It just makes her happy that you like her work! I feel privileged to know her and own her paintings.
Sincerely,
Cheryl Jewett
"Sharon Morley just recently painted a portrait of my Daughter Riley. I remember the first time I saw it. Tears came to my eyes. She captured my daughter so brilliantly it took my breath away. This portrait is now one of the most loved things in my life. Everyone that sees it is blown away by this woman's talent. As my daughter grows I will have more paintings done of her by Sharon. You can see in her work the passion she has for her craft. I already cannot wait to have another one hanging on my wall.
Thank you again Sharon, you truly are a gem!"
Erin Donovan
Hobrook Library, Holbrook, MA  3.11.17  Color Your World with Pastels!
I learned a lot. Very well done and it was a lot of fun. Sharon is very encouraging and patient.
Wayne
Wonderful introduction to pastels. I am ready to explore the medium more.
Sue
Thank you for this wonderful workshop! I learned so much and feel inspired to try it. I'm surely picking up this new hobby!
Jenifer
I love it! She did a great job explaining everything!
Shantal
I had lots of fun! I learned a lot!
Ken
Informative, especially for beginners. Accepting/patient instructor.
Jenny
Love her advice and her tips for our paintings.
Julio
I love the workshop. I have never worked with pastel before and she explained so well that I ended up doing a masterpiece!
Stephanie
Very thorough introduction to pastels
(Forgot to sign)
Excellent teacher!
Diana
Essex Art Center 2.4.17 Color Your World in Oil!
Great Workshop!  Took some of the mystery of oils out of the equation.  Kathleen
Sharon was really good for teaching for all levels.  She made it easy and enjoyable.  Margaret
This was my first class to oil painting.  I learned the basics of oil painting.  Susmita
This Was Fun!  We learned so much & had lots of time to paint.  Great class-My first time with oils and I'm sure I will do more!  Holly
Awesome!  Easy going, informative, approachable instructor.   Hands on.  Would take another course!  Eric
Wonderful morning meeting.   Great introduction.  Most recommended!  Aslelet
Excellent Class!  My first time so handout was great.  So not overwhelming.  Thank you, Sharon!  Celeste
Always enjoy Sharon.  I enjoyed the color chart and the work of painting itself.  I don't like oil painting but Sharon made it seem more pleasant than I thought it would be.  Jeff
Shute Library, Everett, MA  Color Your World with Pastels!  2.23.17
Sharon paid special attention to each student and gave instruction to each stent as to how they can improve by using different techniques.  Lillian B.
Very informative.  Enjoyed Sharon's knowledge of pastel Painting.  Katie N.
I appreciate your explanation on material use.  Extremely helpful.  Very interesting.  Sharon gave us the best materials for painting.  It was great learning from you.  Thank you for everything!  Trish
The workshop was very enlightening.  It is my first pastel painting.  I think I will keep painting.  Elaine
Sharon really took the time to explain the materials used, the various techniques, and the places to get the materials used.  Very organized, detailed and fun!  Thanks!  Lillian C.
Very informative and helpful with pastel art.  Adam
Class Participant:  McKenzie Watts
Sharon's teaching has helped me to be such a better artist than when I first came to her. She has given me more confidence to try new mediums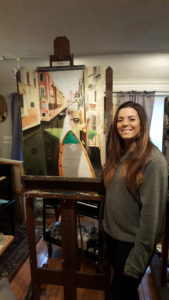 as well as challenging projects. She is very well educated and has such a passion for what she does and carries that through her work.
I would highly recommend her class for any artist at any stage in your artistic skill! Love working with her!
McKenzie Watts
Class Participant
Dear Sharon,
You wear born to be an ARTIST..
The minute you opened that returned art instruction book at the library, it was a beautiful beginning to, not only you, but to so many others, (mainly me)
The joy you have brought to others with all of your paintings, your art classes, your encouraging words, etc. is hard to put in mere words.
Joy, Excitement, Awesomeness, Gifts of Learning, Delight, Gifts to gaze at with happiness, Happiness, Inspiring, Breathtaking and so on.
I might have to learn another language to come up with more words. But they will all be the same awesome inspiring words in any language.
I wish you could see the looks on my face when I see A Morley Special is coming my way (through your email). Like Christmas every time!!!!
Uplifting is another word.
Off to get ready for work, my ARTIST friend, teacher, mentor,
Van Gogh, Monet, Gaugain,etc. had nothing on you
Ann Kenyon, Artist and former student,  Las Vegas, NV
Essex Art Center November 2015  "Color Your World With Oils!  4 hour intensive
Wonderful workshop.  I learned so much.  I would have loved twice the time.  Now I want to take a full out painting class with Sharon.
Elizabeth
So great, definitely can paint at home.  Can frame my workshop painting!
Leanne
It was a great class.  Sharon is very knowledgeable.  Really enjoyed the oil Painting Class
Marion
Great intro to oils~good overview of materials and lots of fun!
Suzanne
Well thought out, everything explained.  Sharon did everything possible given the amount of time.
Nelson
Sharon's very knowledgeable and very friendly.  Class was very informative.
Kira
Versatile, talented, kind, generous
Versatile, talented, kind, generous – just a few words to describe artist, Sharon Morley. I was fortunate to meet Mrs. Morley a few years ago at an art workshop on oil pastel exploration at the Essex Art Center in Lawrence. As the instructor of the workshop, Mrs. Morley brought great enthusiasm and a well-rounded portfolio of work. She mentioned to the small group that she would always be willing to help us out and if we ever got stuck on a project or didn't know what materials to buy, just call her up! Well, I am so thankful I "made that call." Mrs. Morley also visited my Drawing and Painting class a couple years ago and since then I've been eager to get her back in front of young artists.
Mrs. Morley's visit included an in-depth artist talk, offering advice on materials, marketing, the creative process and much more. She preached to the students that "you can learn a lot out on your own," encouraging them to simply visit their local libraries for lots of art books and instructional DVDs.  One of the pieces of advice I hope to take home is her philosophy on developing a studio space. She encouraged everyone to reserve a space for art and "fill it with things you love." Mrs. Morley's enthusiasm for carving out time in life to pursue one's own art journey truly felt infectious.
I am very thankful for Sharon Morley's sacrifice of time and energy today. She was a wave of creative enthusiasm that I'm guessing will not quickly dissipate.
Andrew Dexter, Art Teacher, North Reading High School  December, 2016  as posted on his blog "Art with Mr. Dexter"  December 9, 2016
Thank you, Mr. Dexter.  It is always a pleasure to see you, your class, and to look at what everyone is working on.  The students were quite receptive and it was fun to have a hand in what they are learning!
It was also great to see your personal work.  You are a true inspiration to these students and it shows in the way they treat you!