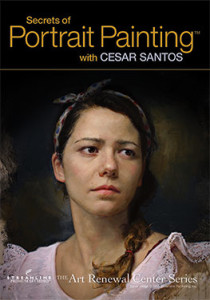 Secrets of Portrait Painting with Cesar Santos
I have just finished watching the new DVD "Secrets of Portrait Painting with Cesar Santos" and I must say it is the best portrait painting DVD on the market that I have found (and I have watched a lot of videos). Cesar Santos is a very likable guy who paints world class portraits.  In this DVD from Streamline Art Video, Cesar shows us step by step how he achieves a likeness in a subject, what paint colors & brands he uses, and how he sets up his palette and more..  Throughout his demonstration which is 20+ hours long, Cesar explains what decisions he is making and his ideas on what makes a painting go from a "good painting" to a "great painting".  In this day and age where we have social media and we see a lot of one hour paintings and unfinished work or sketches, it is such a joy to see a portrait come to such a finished product.
I am also glad that the DVD is 20 hours because you can watch small bits of it at a time (It took me a couple of weeks to view the entire video) thereby absorbing the information that Cesar so generously gives out.
Cesar narrates as he paints through the entire video with such humor and passion that it is such an awesome experience to witness.  If you are interested in learning how to classically render a portrait, this is the only DVD that you need!  It is well worth the money (think about it as having a workshop in your home that you can watch time after time – and it still costs a lot less than most workshops).
This is a "Must Have" for any serious portrait painter.  An upadate..  4.1.16 I have used the methods of Cesar's Portrait painting Dvd in my two newest portraits.  I feel I learned a lot about seeing values in portraiture in both Oil and Pastel.  Check out my portrait page and see"The Optimist-Mike Morley" ,  "Riley"  and "Gloria".
Eric Rhoads Founder of Streamline Art Video,  Fine Art Connoisseur Magazine, Plein Air Magazine, and many more ventures, has created a masterpiece DVD from a masterpiece artist. I have some other DVDs through Streamline Art Video and they are all fabulous-I will talk about them later.   Well worth the investment.  Has anyone else bought this DVD?  If so, I would love to hear your comments!
Posted by artist Sharon Morley December 3, 2015