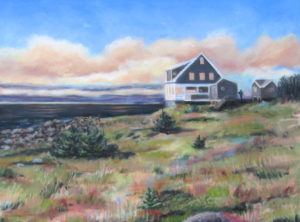 Jamie Wyeth House, Monhegan, Maine
11×14 Pastel — I loved going to Monhegan to paint. This is a painting I did of Jamie Wyeth's house, adding in the colorful details as Jamie's work is so colorful and beautiful.
Framed in gold with Tru-Vue AR Glass
$

450.00
Add to cart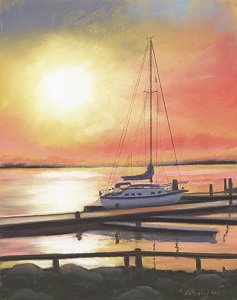 Sunset Jewel
11×14 Pastel — Sunset is just such a tranquil time by the ocean when the colors come alive. I love the ocean and sailing and combining that with the love of painting just makes me so happy.
This painting comes framed in a 2 inch black frame with Tru Vue Glass.
$

450.00
Add to cart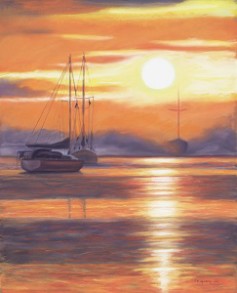 Serenity
16×20 Pastel
This painting was inspired by the beautiful sunrise in Newburyport on a warm August morning.  Comes with a black frame and Tru-Vue AR Glass.
$

650.00
Add to cart