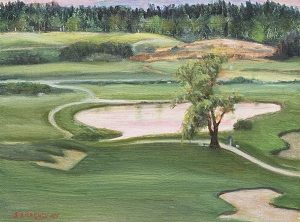 Merrimack Valley Golf Course
8×10 Oil on Canvas Framed in Gold
I love running by this golf course as it is so beautiful any time of year. I enjoyed painting this scene on site.
$

300.00
Add to cart
Spiggot Falls in Winter
16×20 Oil
I think the falls in Methuen, MA are so beautiful.  I painted this on site and then finished it in my studio.  The falls were frozen and I love the way the blue water plays with the sun warm buildings.
Framed in a three inch neutral gold/silver frame.
$

1,200.00
Add to cart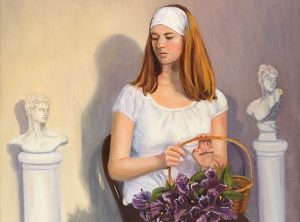 Innocence in Bloom
18×24 Oil
This young woman posed for me and I was delighted to paint her.  This would be beautiful hanging over a piano and would enhance any room with it's delicacy.
Framed in Gold
$

2,200.00
Add to cart